Pension Hubertus in Zell am See
WATER SPORTS IN ZELL AM SEE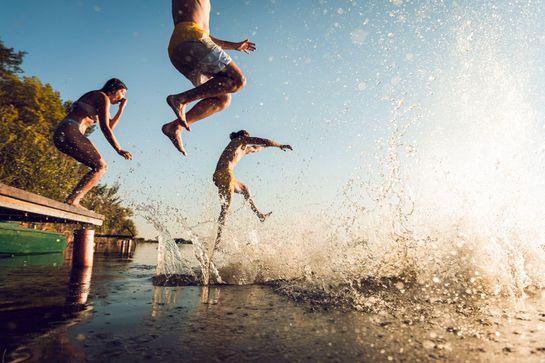 Watersports in and around Lake Zell in Zell am See
Do you love water sports? Swimming, sailing, diving? Do you enjoy fishing or would you like to jump off a motor boat or pedalo to refresh yourself? What about water-skiing? All that and much more is available at idyllic Lake Zell. The water is perfectly clear and in summer it's paradise to cool down, paddle, splash around or swim in the lake or simply relax in these wonderful unspoilt surroundings.
The quality of Lake Zell's water is so high that it's drinkable - you have the choice of swimming in the lake with summer temperatures of around 23°C or, if the air is chilly, in one of the three heated pools on the shore, all the while enjoying a marvellous view of the surrounding mountains and, from the eastern and southern shores, a view of the glacier.
However active you want to be on or near the water - Zell am See offers you everything you could possibly wish for
Among the other activities available are: windsurfing, waterskiing, water-banana rides, kayaking, stand-up-paddling, sailing, fishing, diving, water trampolining, pedalo or motorboat hire and kitesurfing.
Speaking of boats, a wonderfully inviting way to experience the lake is on a cruise. The MS Schmittenhöhe begins its lake cruises in April.
For the really adventurous, Michael and his team are standing by, waiting to take you on an unforgettable canyoning tour down rivers and gorges, or you can opt for the gentler rafting on the Salzach or Saalach rivers.

We guarantee you'll have an unforgettable water-sports holiday in Zell am See